| | | |
| --- | --- | --- |
| | | This page requires a cleanup to perform a higher standard of quality. This may include fixing photos, sections, templates, and overall content. When the page matches the guidelines set in the regulations and format, this template may be removed. |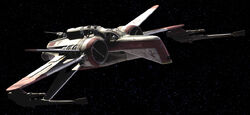 ARC-170 (or Aggressive ReConnaissance-170 starfighter) is a spacecraft used by the Grand Army of the Republic. They were piloted by clone trooper pilots. This type of fighter has been used in many battles.
These fighters have been involved in many battles such as the Battle of Malastare, Battle of Kamino, Battle of Sullust as well as the Battle of Lola Sayu and the Battle for Anaxes.
The ARC-170 were equipped with six proton torpedoes and had laser cannons mounted on its wings. It also had laser cannons mounted on its tail. It had a crew of three which was one pilot, a forward gunner who controlled the wing mounted cannons and a tail gunner who controlled the laser cannons on the tail.
Appearances
Edit
Ad blocker interference detected!
Wikia is a free-to-use site that makes money from advertising. We have a modified experience for viewers using ad blockers

Wikia is not accessible if you've made further modifications. Remove the custom ad blocker rule(s) and the page will load as expected.