CT-66-3232
Information
Home World:
Born:

c. 32 BBY

Species:

Human (Clone)

Gender:

Male

Height:

1.83 meters

Hair color:

Black

Eye color:

Brown

Rank:

Clone cadet

Role:

Cadet

Unit:
Era(s):
CT-66-3232 was a member of Bravo Squad and a clone cadet.
While taking the final test, Bravo Squad was the first to take the Citadel Challenge and complete it. They then became troopers of the Grand Army of the Republic and were stationed somewhere. CT-66-3232 was one of the troopers with the number 2 on his armor.
Out-of-Universe
Edit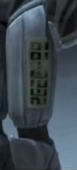 This Bravo Squad cadet's identification number was first depicted in the picture to the left. It says 66-3232. And the prefix was known to be CT, as all clone cadets have CT numbers.  This way of determining identification numbers was proved with the troopers in Domino Squad.
Appearances
Edit
Star Wars: The Clone Wars – "Clone Cadets"
Ad blocker interference detected!
Wikia is a free-to-use site that makes money from advertising. We have a modified experience for viewers using ad blockers

Wikia is not accessible if you've made further modifications. Remove the custom ad blocker rule(s) and the page will load as expected.