Welcome to Clone Trooper Wiki!
We are currently editing 494 articles, and you can help us!
This is not a fanon wiki. If you have fanon stories, please publish them here.
Warning! This wiki may contain spoilers!
About Clone Trooper Wiki
Welcome to
Clone Trooper Wiki
, a collaborative encyclopedia for everything and anything related to Star Wars'
clone troopers
. There are
494
articles
and we are still growing since this wiki was founded in May of 2009. The wiki format allows anyone to edit any article,
create an article
, and create a
blog
so we can all work together to create a comprehensive database for the Star Wars' clone troopers. Don't forget to visit this wiki's
regulations
before editing and please sign up in our
community
. If you have any questions, contact a
CO
.
New on Clone Trooper Wiki
Featured Article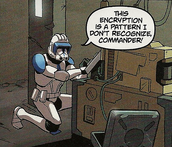 Six-ten
was the nickname of a clone trooper who served within the
501st Legion
during the
Clone Wars
. He was a clone of the bounty hunter
Jango Fett
, and was born on the planet
Kamino
.
Sometime from 21 BBY to 19 BBY, the
501st Legion
and some shock troopers launched a raid on a Separatist factory in the Outer Rim. They stole an encrypted file on a data chip, which was crucial to the Confederacy of Independent Systems. Battle droids attacked the clones, seeking to recover the file. Six-ten, carrying the data chip, ran into a building where he attempted to decrypt the file, at the request of a commander.
(Read more...)
Poll
How do you feel about Rex, Wolffe, and Gregor returning in Star Wars: Rebels?
Need Help?
If you have any questions or concerns, ask one of Clone Trooper Wiki's Commanding Officers!
Clone trooper unit
Random clone trooper unit: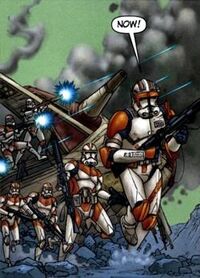 "A" Squad
Clone trooper
Random clone trooper:
Havoc
Affiliates

Unofficial Affiliates


Official Affiliates

Remember to vote on the nominations!