Clone trooper lieutenant
Information
Color(s):

Blue

Equipment:
Era(s):
Clone trooper lieutenants, or 1st lieutenants, were special trained clone troopers that were in charge of about thirty-six troopers, or a platoon, which consisted of four squads. Each squad was led by a sergeant, so a lieutenant was the leader of four sergeants. A lieutenant was just higher than a clone 2nd lieutenant and just lower than a clone trooper captain.
Armor and Equipment
Edit
Clone trooper lieutenants wore blue Phase I clone trooper armor during the earlier years of the Clone Wars. In the last years of the Clone Wars, they wore Phase II armor, but didn't wear different armor than other clone troopers in the platoon, because different armor distinguished them by division.
ARC trooper lieutenants wore ARC trooper armor, which consisted of kamas, rangefinders, pauldrons, and sometimes a hidden weapon. They also had blue markings on their armor.
Clone trooper lieutenants occasionally wore painted armor to match an environment they were going to battle in. An example is camouflage for a forest habitat.
In the Grand Army of the Republic, there were a few 2nd Lieutenants, lieutenants under the command of regular lieutenants. One was CL-33/890.
Appearances
Edit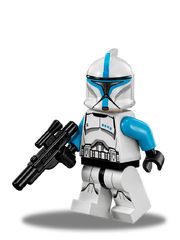 Equipment
Hero of Cartao
Jedi Trial
Reversal of Fortune
Star Wars Episode II: Attack of the Clones
Star Wars Episode III: Revenge of the Sith
Star Wars: Republic: Into the Unknown
Star Wars: The Clone Wars – "Ambush"
Star Wars: The Clone Wars – "Brain Invaders"
Star Wars: The Clone Wars – "Clone Cadets"
Star Wars: The Clone Wars (film)
Star Wars: The Clone Wars – "Rookies"
Star Wars: The Clone Wars – "The Hidden Enemy"
Star Wars Boba Fett: Crossfire (cover only)
The Clone Wars: Headgames
The Clone Wars: Prelude
The Clone Wars: The Pengalan Tradeoff
Inside the Worlds of Star Wars: Attack of the Clones
Star Wars Insider 84
Star Wars Insider 87
The Essential Guide to Warfare
External links
Edit
Ad blocker interference detected!
Wikia is a free-to-use site that makes money from advertising. We have a modified experience for viewers using ad blockers

Wikia is not accessible if you've made further modifications. Remove the custom ad blocker rule(s) and the page will load as expected.