Weekly Blog Post #1, 7/9/13
---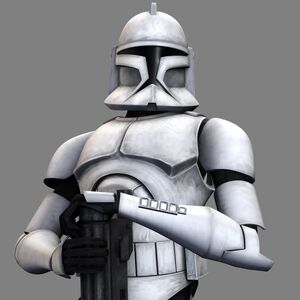 Hello, and welcome all editors of Clone Trooper Wiki. I am Legoclones, your CO in the 617th Battalion. This is the first blog post in a series that I will create. Every week, I will (hopefully) create a blog post informing all you guys of whatever's going on.




Features:
---
Grading system - an idea inspired by Brickipedia, it is a system designed to categorize articles based on their content quality. Unlike Brickipedia, though, we only have 4 classes. Class 1, Class 2, Class 3, and Class 4, with 1 the best and 4 the worst. Currently, not all articles have been placed in a class, and I would like to encourage you to help with placing all articles in their corresponding category. The requirements are placed on the class page.
Chat has been reactivated by former admin Kryyton, who has left this and all other wikis. We miss him and wish the best of luck elsewhere. It has been reactivated by him so that members of the wiki can communicate and share their thoughts and ideas with other members of the wiki. Feel free to go on whenever you want.
The 617th Attack Battalion was created by the wiki's admins because it sounds pretty cool. Basically, all editors can have a rank and editing more and becoming a better editor will help you have a higher rank. The full run-down is on the official page, so feel free to go there and check it out. The whole operation has not been finished, and many pages need to be made, so just be patient as we get to it. We also came up with the idea of the Kotep Squad, a four-man squad of commandos (editors) that will carry out special projects ordered by their Commanding Officers (commonly referred to as COs). This squad has not been established yet, but you must be a very good editor to join.
Promotions:
---
Other:
---

Well, that concludes my first blog post. More blog posts will be created as time goes on, so just wait until next week! If you have any questions, comments, or feedback on anything mentioned above, simply leave a comment at the bottom of the page, and I will get to you ASAP. Goodbye!

Ad blocker interference detected!
Wikia is a free-to-use site that makes money from advertising. We have a modified experience for viewers using ad blockers

Wikia is not accessible if you've made further modifications. Remove the custom ad blocker rule(s) and the page will load as expected.